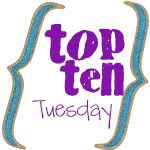 My "to do" list is always growing and some things always seem to get pushed down the list.  This week I'm sharing my list of ten things I really should get done but never seem to make it to the top of my list.
1.  Scrapbooking.  I've got my seven year old's baby book almost filled in and his first year album done. My four year old's got nothin'.  If that wasn't bad enough, I haven't printed pictures since we moved (in January 2008) and still have printed pictures from pre-move that need to be scrapped.
2.  Decluttering the house.  I love having a neat, clean house but growing up with few things makes me tend to hold on to things a bit longer than I probably need to. I also didn't have a great example of a nice, clean home.  Sometimes playing with the kiddos or laying on the couch takes priority over things I know should be a priority.
3.  Catching up with friends.  I've been so busy with things at work and some things in my personal life that I've pulled back from Facebook, Twitter, texting, emailing and everything else.  
4.  Putting a calendar together.  Yes I realize that it's August and yes I still need to get a calendar for our house at a sad attempt for schedule organization.  
5.  Cleaning my room.  No, I'm not a teenager but my room looks like I am.  That becomes the "dump" when I need to quickly clean another room of the house.  
6.  Watching DVR'd shows.  I DVR things with the intention of watching them at some point.  Well, I never seem to find the time to sit and watch that movie or show or whatever.  I need to watch or delete…
7.  Making Disney plans.  This is like the cardinal sin for a neurotic Disney person like me.  I should have the entire trip mapped out by now for both Labor Day and October but I don't.  I need to dedicate some time to this task very soon.
8.  Reading.  I love to read.  When I was younger I always had a book in hand.  Now, the only time I have time to read is usually before bed.  Put a book in my hand before bed these days and before I'm done with the page, I'm asleep.
9.  Saving money.  A year ago you'd have found my house filled to the brim with things I got very cheaply or for free.  Now, there are more empty cupboards than full ones.  I stocked up so many things that I was able to take some time off from the couponing and shopping and now I need to fit it back into my shopping and daily life.  I miss the feeling of saving a ton of money and walking out of the store with lots of free items.
10.  Slowing down.  I'm involved in a ton of different things and lately I've really been looking at some ways to rework some things so I can still be involved in all my various activities without having so much responsibility.  It's ok to not be Super Mom.
Hopefully on a Tuesday very soon I'll be able to post a Top Ten list of things I've gotten done from this post!
Got a list of 10 things you want to share?? Write your post and link up at
Oh Amanda
!